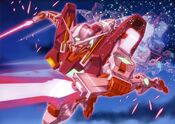 "Exia has located the target, have concluded Dust Shikai is guilty of promoting conflict, commencing armed intervention. Exia, will eliminate targets"
This article, Dust Shikai, has been nominated for deletion, and the Administrators are currently considering its deletion. The reason given was:
Update
. If you disagree with this, state your reasoning on the talk page.
Dust Shikai
Biographical Information
Place of Birth

Eisengrad

Family

Charlie (Brother)

Date of Birth

July 20 04BF

Age

25

Status

Active

Physical Description
Aliases

Black Wolf

Gender

Male

Genetic Type

Human

Hair

Black

Eyes

Black

Pilot Data
Primary Archetype
Secondary Archetype
Pilot Stats

Intelligence:17+3= 20
Body: 8
Engineering:15+10= 25
Tactics:10

MS Specialities

Close Range:18+2= 20
Beam Weapon:15+7=22
Conventional:17+7= 24
Speed:23+2= 25
Defense:15+2= 17
Tech:22+5= 27

Affiliation Information
Occupation

MS Pilot
Mobile Suit Engineer

Mobile Suits
Affiliation

Earth Reclamation Alliance

Nation of Affiliation

Europe

City of Affiliation

Eisengrad

  [Source]
Appearance
Edit
Average build and height with short straight black hair.
Personality
Edit
Dust is a friendly, easy going and generally open person. A little lazy at times but always serious when the situation demands it.
Strengths
Edit
Good with people. Very Persuasive and the kind of guy you can't help but like.
Analytical Mind with a Photographic memory meaning he can learn things relatively easily.
Quick Reflexes which allow his body to keep up with his quick mind.
Weaknesses
Edit
Tends to let his feelings interfere with his judgement.
Can snap if pushed too far to the edge. With varied results.
Hesitates when fighting women.
Had a relatively normal childhood until the Fall. He was born in Eisengrad and then travelled all over Europe because of his fathers job. His mother stayed home with him while his father worked as a military mechanic. His brother Charlie was away at a private school when the fall happened and hadn't been seen until he arrived by chance as a pilot for the Unicorns. During the fall he somehow managed to survive, not sure how himself but when he woke up he found the remains of his parents covering him like a shield. He left the ruins of his home and wandered for days until he found fellow survivors. It took awhile but eventually he went back to his normal self. Recovering from the trauma of the Fall, or did he?
As soon as he was old enough he got work as a mechanic like his father and helped in the rebuilding whenever he could. Eventually getting to be a mobile suit tech once they were being made once more and becoming a pilot after showing skill at it from a chance opportunity when his group was short a pilot.
He is currently the lead engineer at the weapon smith and works there along with his brother Charlie who tests the suits and weapons he creates. His preferred role in combat is Sniper/Support.
Relationships
Edit